Aqualandia and water parks
---
Are you looking for a place where all the family can have fun from morning till dusk near to your holiday home in Eraclea mare? What could be better than a water park?
Especially if we're talking about one that has been voted 8 times the No.1 water theme park in Italy. An Oasis of entertainment on 80.000 sq. m, where you can find attractions for every age group, from relaxing to having fun to extreme sports including the Spacemaker, the highest water slide in Europe
Caribe Bay is much more than a traditional water park. It's a true themed fun island, with 26 attractions, including the highest water-slide in Europe 7 shows and animation activities. There will be no time to get bored.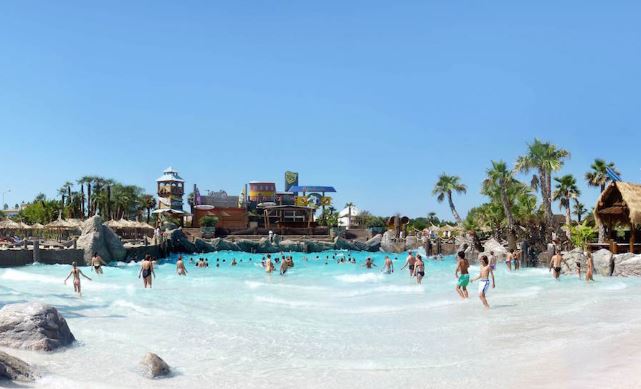 A world of fun for young and old
Caribe Bay is the perfect place for all the family. Whilst parents enjoy sunbathing or taking a dip in the pools the children can have fun on the waterslides and waves in complete safety, under the watchful eye of the numerous lifeguards.
For the more adventurous there are many shows and attractions to make for an adrenaline fueled day.
For the adrenaline junkie
For those not afraid of heights and speed and are looking for the adrenaline rush. This is the right place for you.
Aqualandia has the highest water slide in Europe, the Spacemaker, where speeds reach up to 120km/h There are many attractions like Crazy River and several different types of water slides.
For the brave there is Europe's highest bungee jump.
And for the youngsters...
Caribe Bay has created Funny Land, inspired by the world of comics and made to measure for smaller children. Entrance to Funny Land is exclusively for children between 3 to 12 years. The staff will entertain your children in complete safety.
There are fun shows and activities to take part in, keeping your children entertained all day.
Eating?
Inside the park there are 9 restaurants to suit everyone's tastes. Why not try the specialties from Mexico, the USA or even Japan. What about caramelized fruit, chocolate, crepes or churros to finish?
There is also a wide range of cocktails and drinks to suit everyone's tastes!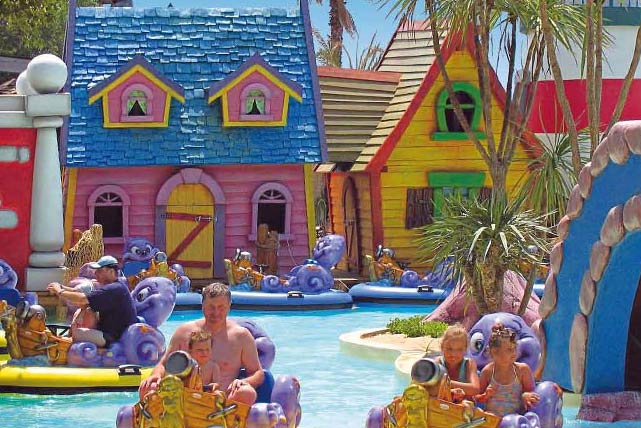 How to get to Caribe Bay from Eraclea Mare?
Caribe Bay is around 20 minutes away from Eraclea Mare, there is ample parking on-site making it easy and stress free to get there by car.
If you don't fancy driving why not take the bus from Eraclea Mare to the ATVO bus station in Jesolo Lido? At the station you will find a bus that will drop you right in front of Aqualandia.
Buying your ticket from us
For those that are staying in one of our holiday properties we can offer special discounted entrance tickets to the attraction in Jesolo but also Acquafollie in Caorle.
We are here to offer advice and information regarding bus timetables, car rental or any other questions or queries that you may have. We're looking forward to helping you.
The water park in Caorle!
Just a little smaller but not for this reason less fun, is the water park Aquafollie near Caorle. There'll be no time to stop between slides and artificial wave pools!
There are covered slides and rapids for the brave and lower slides immersed in the vegetation for children and adults.
Video
Back to the itineraries list