Landscape and nature in Eraclea Mare
---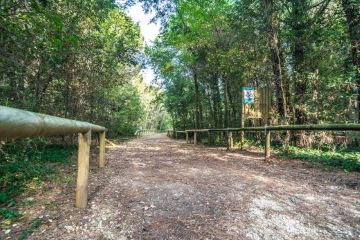 Why is Eraclea Mare one of the most loved beaches in the Venetian lagoon?
Called "the pearl of the upper Adriatic ", Eraclea Mare has a wonderful perfume made up of over three thousand pines that embellish the coast.
The beach also boasts lots of vegetation amongst the sand dunes you can find many species of tamarisk that together with the pine trees make it the greenest beach on the coast .
The Pineta or pinewood forest
The beautiful lush pineta of Eraclea Mare has origins of over100 years. Marco Aurelio Pasti, the founder of the town personally procured the pine seeds from the coast of Ravenna and had them planted in the resort of Eraclea, near to the beach thus creating the lush pineta that we can admire today.
The open umbrella pines create a shaded natural habitat for numerous species of plants as well as wildlife .If you're lucky you may even spot a squirrel.
Services and activities
The pineta of Eraclea Mare, as well as being beautiful in an aesthetic way is also perfect for those looking for a place to relax as well as offering great sporting activities. We can find many picnic tables inside, where you can have lunch together with your family, sheltering them from the sun in the hottest hours.
There are many grassy patches amongst the trees that offer shade for those wanting to lie down on their towels to rest
In the pineta near the beach there are play areas for children
The pineta of Eraclea Mare offer numerous cycle/pedestrian paths and routes to enjoy walking, jogging or cycling..
What are the advantages of staying in the pineta?
Most of our properties are immersed in the pineta, making them the perfect choice for families.
Staying in the pineta, surrounded by pine trees offers open space and freedom, being away from the main roads and traffic children are free to play, giving you peace of mind. Our properties in the pineta are very close to the sea, all you need to do is just follow one of the many paths through the vegetation to get you to the beach.
Renting an apartment or bungalow in the pineta means quiet and relaxation, no loud music blaring out or traffic noise to disturb you whilst you are relaxing with your children.
Video
Back to the itineraries list